External Fixator
The introduction of the Dynasplint® System to the external fixator technique is significant to both Dynasplint and the orthopedic field.  For years patients have been significantly challenged with regaining range of motion after severe trauma and immobilization due to external fixation and limb-lengthening. Range of motion is lost along with the impact of functional use of the limb. We have adapted the product line to make an attachment to help these issues.  The External Fixator Dynasplint Systems are fit post-operatively for prevention and treatment of range of motion loss and deficits.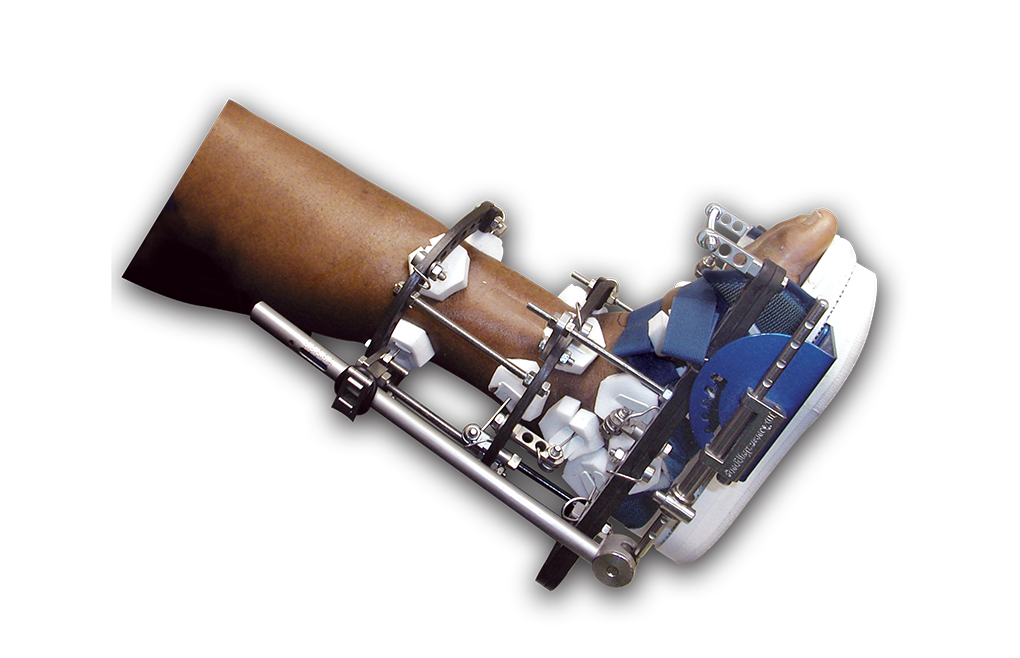 External Fixator Dynasplint® System
It is extremely important to the success of the external fixation procedure that adequate range of motion to the involved joints be maintained throughout the entire procedure. It is possible that severe contractures could occur after this procedure, resulting in the patient undergoing another surgery for manipulation. With the post-operative application of a low-load, prolonged-duration stretch delivered by the Dynasplint System, a patient can receive an effective stretch to prevent such contractures.
Ready to Get Started?
Receiving your Dynasplint® System as early as possible is essential to improve your recovery time and achieve optimal results.
When Should These be Utilized?
It is extremely important to the success of the external fixation procedure that adequate range of motion to the involved joints be maintained throughout the entire procedure.  Common diagnoses include:
Fractures

Tibial Lengthening

Femoral Lengthening

Bone Transport

Humerus Lengthening

Forearm Lengthening
It is extremely important to the success of the external fixation procedure that adequate range of motion to the involved joints be maintained throughout the entire procedure.  Common diagnoses include:
Fractures

Tibial Lengthening

Femoral Lengthening

Bone Transport

Humerus Lengthening

Forearm Lengthening